From its operational Tripoli Office, A.T.C have a direct electronic link with all John Deere Systems allowing them to………...
Check machine availability and specifications
Establish pricing and create pro-forma invoices.
Place electronic machine orders and track order status.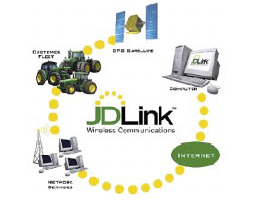 Check part number status and
Supercessions.
Check parts pricing, availability and
create pro-forma invoices.
Place parts orders and track order status.
Real time access to John Deere's parts stock allows A.T.C. to establish immediate availability and assist customers locate and import the correct part. Until A.T.C.'s new workshop/warehouse facility is completed, use of John Deere's Machine Down (MD) ordering system allows most parts to be received in Tripoli some three (3) to five (5) days from order placement (Courier shipment and MD surcharge apply)

John Deere's acquisition of VAPORMATIC (UK) and A & I (USA), replacement parts manufacturers and marketing companies sees a wide range of quality, competitively priced spare parts to suit older John Deere tractors and also a wide range of competitive tractor makes and models.

These replacement ranges cover the following manufacturers equipment
Massey Ferguson & Perkins

Allis Chalmers

Deutz and Landini
David Brown & Case
International & Case International
Fiat, Laverda and Fiatagri
JCB and many other competitive makes

A.T.C have a wide range of services and support available from
application advice, specification confirmation, supply of John Deere Equipment and Spare Parts, Service Support and Repairs and the supply of quality replacement parts for other machines currently operating in Libya.